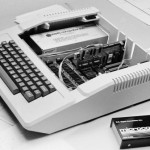 The Steve Jobs story has something for everyone.
He was a revolutionary who embodied the American Dream; design was his weapon.
He was a self-made man whose success came from building products, not by gaming the system.  He was counter-cultural; a dropout; a drug user; the darling of Wall Street; and the arbiter of good taste.  He was somehow able to hold together earnest working class values, engineering values, elitist values, and Buddhist values.
It was not just his success, but how he succeeded.  Entrepreneurship, innovation, building a better mousetrap, the startup in the garage–this was what America was supposed to be good at.  Apple was a story of disaster and salvation.  Maybe America is yearning for this particularly strongly right now.
I think his biggest achievement was how he made the revolutionary potential of digital technology real.  That's hard to do.  Entire industries–technology, music, movies, personal communications–have been remade for the better.  It's not obvious that without the interventions he personally led, these revolutions would have happened.
His legacy will last longer than his products if the digital revolution continues; if the industries and institutions that desperately need re-inventing are revolutionized in Chairman Jobs fashion by his disciples and admirers.  In the days to come, perhaps it will be TV, or financial payments, that are turned inside-out.  Will commerce, education, government, or health care eventually follow?
His uniqueness and rarity, so celebrated over the past few days, illustrates how long and difficult a road it will be for America to revive its traditional hopes and dreams.  There aren't many Mr. Jobs lying around.
Thanks Mr. Jobs for letting me play with one of your Apple II's when I was 15, and a 128K Macintosh when I was 17.  That was awesome.