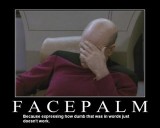 Thanks to social media, any clear separation we might have once had between technologies of intimacy, and technologies of broadcast, is gone.  Lured at first by the promise of exclusivity, then by the efficient management of friends and family, essentially every American between 13-30 now willingly shares intimate details of their lives on the most easily accessible media platform in human history.  As a facebook commenter might say:  hahahahaha!
I've found quality guides online for how to protect your privacy on facebook and other social media (the 'how' to protect yourself), but I haven't found as good an overview of the potential risks, and how real they are (the 'why' to protect yourself, and 'where' to focus your efforts).  So I put together these slides for a panel on "Privacy and Security with Social Networking" at USF's CIT.
[social media risks talk slides]
One theme is that while elaborate privacy settings are nice, when damaging information gets into the wrong hands, claiming that the post was only intended for 'friends' has never worked as a defense.
[Note:  the books I referred to during the discussion were Alone Together by Turkle and The Facebook Effect by Kirkpatrick.  The site that demonstrates there is no limit to what people will post was failbook.com.]